Testimonials
Tom's Story
It's been a busy and active year for Tom since his hip replacement one year ago. Ending in the most exciting and spiritual adventure for us both. We would never have been able to achieve we're it not for all the efforts of Dr. Cox, yourself and his fine staff.

For Christmas Tom and I hiked, that's right HIKED, the arduous and tasking Inca Trail to finally arrive two days later to Machu Picchu. This NEVER would have been possible without his skilled and caring efforts.

Thanks to all at Southern Maryland Orthopedic for making our dream come true.
- Tom and Kelley Bressler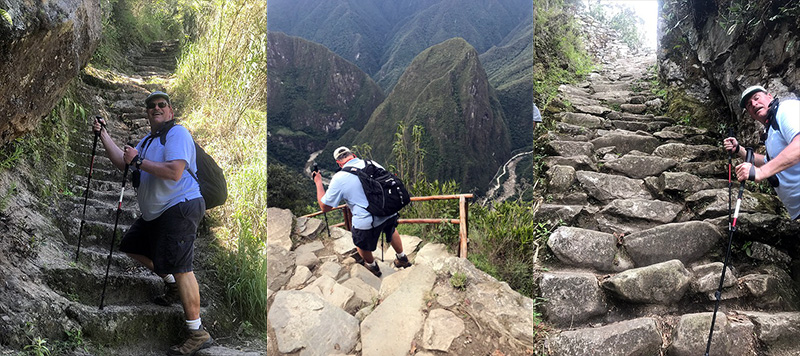 Tina's Story
Tina had constant pain and stiffness in her left knee which prevented her from doing the things she loves, outdoor activities, sightseeing on vacations and even walking through the mall on shopping trips.
"I wanted to go on vacation with my husband and actually enjoy the whole sightseeing experience." She consulted with Dr. Mark Henderson about having her knee replacement surgery and found out that she was a candidate for an outpatient total knee replacement.
"The overall experience for my outpatient surgery was fabulous." Dr Henderson's suggestion for physical therapy prior to my surgery made a world of difference. His positive attitude rubs off on a patient. "I really felt he wanted me to do well and be successful and not just another surgical procedure he performed. I talk highly of him to everyone who asks about my knee replacement." The facility staff was also kind, compassionate and very professional; I would opt to go to the Leonardtown Surgery Center again in a heartbeat.
"I am extremely pleased with my outcome. I am able to do the activities I love without having to rest in order for my pain to subside."
- Tina Diaduk