Peter S. Johnston, M.D.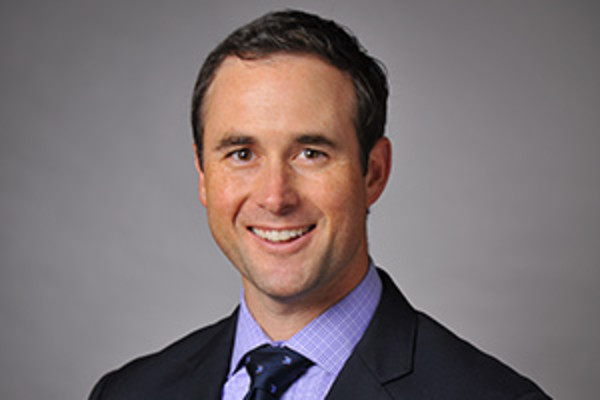 Biography
Dr. Peter Johnston joined Southern Maryland Orthopaedics in September 2011. He was born and raised in Bloomfield Hills, Michigan. He received his Bachelors of Science degree in Neurosciences at the University of Michigan in Ann Arbor, MI. He completed his medical training at Wayne State University in Detroit, MI where he graduated with honors.
Dr. Johnston completed his orthopaedic internship at the Detroit Medical Center/Wayne State University School of Medicine and then moved to Chapel Hill, NC where he completed his formal orthopaedic surgery training at the University of North Carolina. At the University of North Carolina, he received the Resident of the Year Award as well as the William C. Patton Chief Resident distinction for excellence in teaching as nominated by his colleagues. He participated in sports coverage and care of the Division I athletes at UNC and the local high schools.
After completing his residency, Dr. Johnston spent a year as a fellow at the prestigious Rothman Institute at Thomas Jefferson University in Philadelphia, PA sub-specializing in shoulder and elbow surgery. While at the Rothman Institute, he focused on treatment of complex shoulder and elbow conditions including joint replacement for arthritis, instability, fractures, rotator cuff and labral tears, and triceps and biceps tendon tears. He also spent time traveling in France, after fellowship, learning from world-renowned leaders in shoulder and elbow surgery.
Dr. Johnston has a strong background in general orthopaedics in addition to being highly specialized in shoulder and elbow surgery. He trained with world leaders in all aspects of musculoskeletal care at the University of North Carolina. He provides world-class, patient focused care of complex shoulder and elbow conditions including: joint replacement for arthritis and fractures, reverse total shoulder replacement for cuff tear arthropathy, fracture care, tendon tears, and instability. He offers arthroscopic methods for management of arthritis, instability, joint contracture, rotator cuff and labral tears. Further, he manages all elbow conditions, including performing Tommy John surgery.
He continues to pursue his research interests with numerous peer-reviewed publications and book chapters. He has presented research on the national level, most recently on the management of proximal humerus fractures with hemiarthroplasty versus reverse shoulder arthroplasty, treatment of massive rotator cuff tears and the management of shoulder arthritis in younger patients. He is involved in resident, fellow, and surgeon education regionally as well as on the international level. He is involved in cutting edge research on implant design and novel bearing surfaces for shoulder replacement, pain management after shoulder surgery, and understanding failures of previous techniques in rotator cuff repair.
Dr. Johnston approaches his career as an orthopaedic surgeon with the same enthusiasm and passion he does as a father and husband. He feels honored to bring a world-class level of care to the community his wife, Tiffani grew up in and they call home. He is the father to 3, busy children Mattingly Jane, Chandler, and Shay. His interests outside of work include family, golf, fishing, hunting, skiing, and boating.
Areas Of Expertise
Orthopaedic Surgery
Arthroscopic Methods of Management: Arthritis, Instability, Joint Contracture, Soft Tissue Repair of the Shoulder and Elbow
Total and Partial Joint Replacement: Arthritis, Fractures and Tears of the Shoulder and Elbow
Care of the Young and Aging Athlete
Specialties
Shoulder and Elbow Surgery
Medical Degree
Wayne State University School of Medicine; Detroit, MI
Residency
University of North Carolina Department of Orthopaedic Surgery; Chapel Hill, NC
Fellowship
Thomas Jefferson University/ Rothman Institute, shoulder and elbow surgery; Philadelphia, PA
Certifications
American Board of Orthopaedic Surgery
Professional Associations
MidAtlantic Shoulder and Elbow Society
Major Accomplishments
William C. Patton Chief Resident Teaching Excellence
Resident of the Year at WakeMed Hospitals, University of North Carolina
Numerous peer reviewed publications, book chapters, and podium presentations
Hospital Affiliations
MedStar St. Mary's Hospital